Manufacturer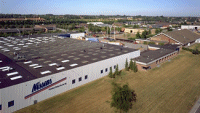 Nissens
http://www.nissens.dk
Nissens develops and manufactures automotive radiators and industrial coolers in three factories located in Denmark. The production space in factories amounts to over 45 000 m² and there is also an automated warehouse of 10 000 m². With its 800 employees and 9 branches in Europe and its international marketing network Nissens is the leading radiator manufacturer in Europe.
Production
All Nissens products are made from top materials by the best and highly skilled workers. That ensures the high quality of the products.
Production lines meet the ISO 9001 standard of quality.
Equipment
Nissens' hi-tech equipment department uses state of the art technologies, making it possible to always be a step ahead of the demand for innovative solutions all over the world.